Café Amigo VIP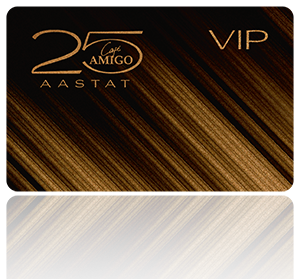 Amigo VIP card is our compliment to our loyal customers to facilitate entrance to events and provide special offers and discounts.
VIP card owners will receive Amigo newsletter, which gives a good overview of the events going on in the club and keeps them up-to-date about all our discounts.
You are welcome to join our festive family!
Amigo VIP card costs 50 €
Owner of the card must be at least 21 years of age
Club employees have the right to ask to see the card owner's ID (ID-card, passport, driving license)
Club employees have the right to refuse entrance to people with inappropriate behavior or appearance
Club has the right to check the authenticity and ownership of the VIP card
VIP card must not be given to third persons, it must not be copied or changed in any manner
Club employees have the right to remove people whose behavior disturbs other customers from the club